7th Anti-Human Trafficking Virtual Walk 2020
9th Oct 2020

-

11th Oct 2020

R45 – R150
Get your tickets on Quicket: https://qkt.io/1nVAZB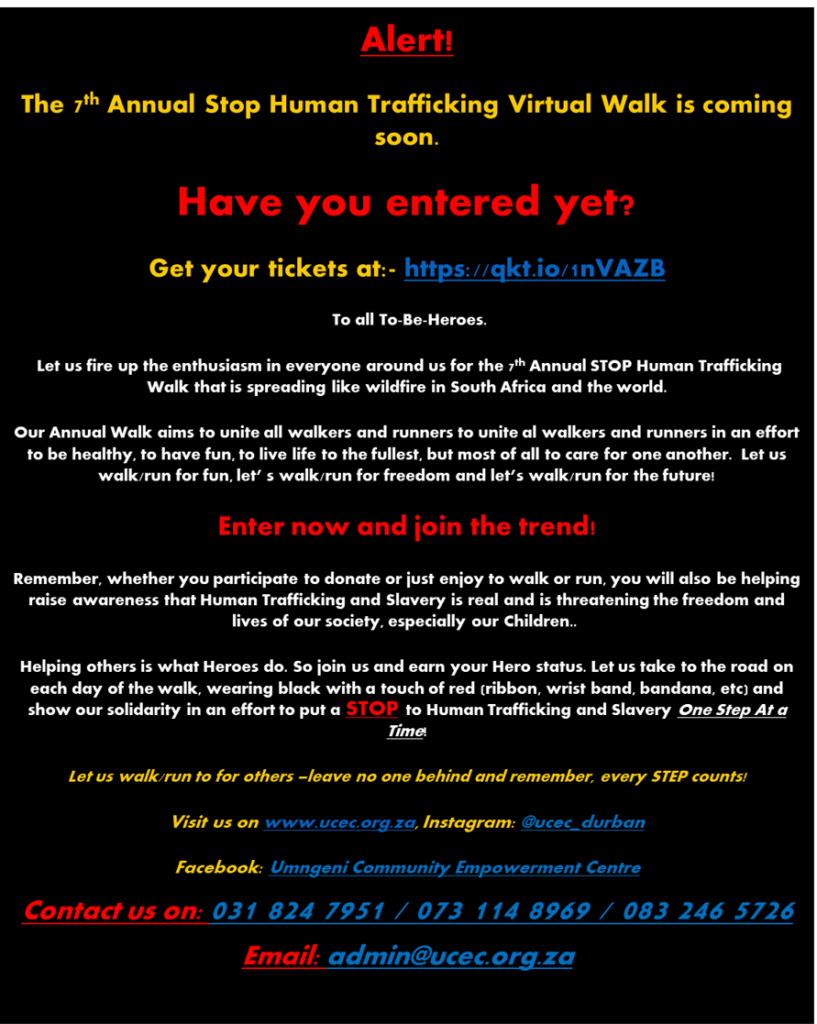 Be the Hero that you are. Help us STOP Human Trafficking and Slavery.
Come and join Umgeni Community Empowerment Centre [UCEC] in the 7th Annual Anti Human Trafficking Awareness Walk. UCEC is calling on foot soldiers and activists to join in spreading the message and sparking conversation about the realities of Human Trafficking and Slavery and efforts to abolish it in our country.
This World-Wide initiative, which is also a fund-raising drive, will be hosted by UCEC, a non-profit organisation that provides Victim Empowerment services to survivors of Gender Based Violence, Abuse and works to abolish Human Trafficking and Slavery.
All proceeds from the event will help UCEC to reopen The Shiloh Crisis Centre which is UCEC's place of safety providing temporary much needed relief to victims of gender-based violence, human trafficking and other forms of abuse until they can be resettled sustainably. Beneficiaries are provided with accommodation, food, clothing & toiletries, counselling, a care plan and referrals to specialised /long term services.
In light of the current pandemic we will host a Virtual Walk that people can complete in their own space and time from 9 to 11 October 2020.
Let us all dress in black and walk at our own time and place of choice, spreading the message that Human Trafficking is real and slavery still exists. Use any creative means to make your statement and share it with the world on our social media platforms or email us.
For more information, contact UCEC office on +27 31 824 7951, Email: events@ucec.org.za
Date:   09/10/2020 – 11/10/2020     Place:    Worldwide – Any place of your choice
How it works:
Register on Quicket: https://qkt.io/1nVAZB
Select Distance 5km/10km/15km/21km
Pay for the race: 5km – R45, 10km – R70, 15km – R100, 21km – R150
Choose your favourite place, wear black and walk or run and make your statement clear
Record your time/distance using any running app/fitness watch – You can complete this distance anywhere and any time between 09/10/2020 – 11/10/2020
Send Results to events@ucec.org.zaor post it and tag @ucec_durban  and #hhppb, #saveourchildren
Share pictures and videos on our social media platforms:-Facebook: Umngeni Community Empowerment Centre   and     Instagram:  @ucec_durban